J.A. Rosa Construction is ready for a warm, productive spring and summer. Looking back over the past year, we feel very grateful for the many successful projects that we've completed.
2016 was a great year for our company. We had the pleasure of working with many experienced and skilled design professionals, owners and owners' representatives who are as passionate about our field as we are. We've always believed at J.A. Rosa Construction, that the key to our success is taking care of our clients. The key to taking care of our clients is to take care of our employees. While this concept seems simple in nature, it is our staff's expertise, knowledge, execution and project management that leads to the success of our projects. We hire, train and retain high performing employees. We are truly grateful, every day, for each talented member of our team.
Below is a synopsis of some of the work that we completed in 2016. Looking forward, our goal will be to publish new blogs that highlight the details of our current projects throughout the year. We'd like to continue to recognize JAR successes because we're very proud of our team's achievements and collaborative work with project partners.
Our general contract jobs included three window projects: Danbury Superior Courthouse, Cheshire High School and The CT Agricultural Experiment Station, a complete renovation of the exterior finishes at Middlesex Community College, two historic building renovations, several elevator modernization projects, several projects with our masonry division "New England Masonry and Restoration Company" and an array of our typical general contract work.
We specialize in complicated, owner-occupied projects with tight construction schedules. While these situations make the job challenging, our JAR team continues to meet deadlines and exceed expectations. We're always excited when we're awarded projects like this, because it's a testament to the quality of our work.
General Contract Work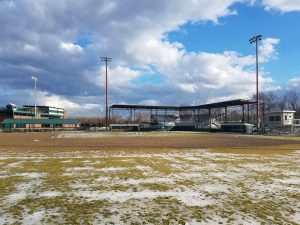 Beehive Stadium Renovations – We completed a nearly two-year project to renovate the bleachers, add a pavilion and press box, and renovate the concession stands. The city of New Britain and the New Britain High School baseball team now have a first-class sporting venue that they can be proud of.
Design Professional:
KAESTLE BOOS ASSOCIATES, INC.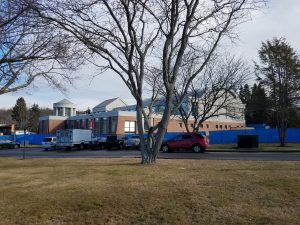 All of the exterior finishes at Chapman Hall at the Middlesex Community College need to be completely replaced. This project includes EPDM roof, EIFS, windows and skylights – all while classes are in session. The project will be completed in the spring when temperatures will allow for the finish coat of the synthetic stucco.
Design Professional:
HIBBARD & ROSA ARCHITECTS
Church of Latter Day Saints in Madison – Our team replaced the woodwork in the chapel. The project required the complete scaffolding of the chapel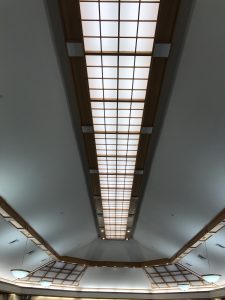 to access the wood soffit and light frames on the ceilings. The wood trim was fabricated and finished in our woodshop. What a beautiful finished product!
Design Professional:
SWARTZ ARCHITECTURE, DPC
We replaced the plumbing and grease traps at the Bullard Havens and Platt Technical Schools for the State of Connecticut vocational schools over the summer vacation. As our standard practice, the staff returned to school with the project complete and ready to "cook."
Design Professional:
GM2 ASSOCIATES, INC
We replaced the structural steel and concrete floor that the fire trucks park on at the Webster Hose Fire Station in Ansonia.
Design Professional:
PRIME AE GROUP
Window Projects
Danbury Superior Courthouse Curtain Wall Replacement – While court was in session we replaced, section by section, the entire curtain wall without disrupting court proceedings.
Design Professional:
OAKPARK ARCHITECTS, LLC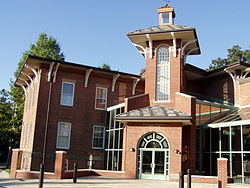 CT Agricultural Experiment Station – We replaced 159 windows in two buildings, two sections of curtain wall and one storefront entrance in the occupied offices.
Design Professional:
KENNETH BOROSON ARCHITECTS, LLC
Cheshire High School – Our team continued Phase II of a three-phase replacement of the windows at Cheshire High School.
Design Professional:
SILVER / PETRUCELLI + ASSOCIATES
Historic Renovations
Tracy Shoddy Mill – Coventry – Our team retrofitted the originally constructed 1812 mill into a town meeting place. The new space has a brand-new kitchen, toilet facilities and meeting hall. We left some of the 200-year stonework visible in the interior as a beautiful focal point combining new world finishes with the old word construction.
Design Professional:
SALAMONE & ASSOCIATES, PC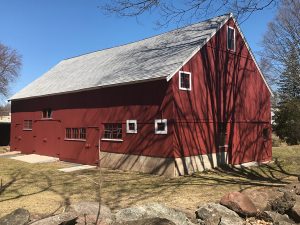 Woodbridge Barn – JAR performed structural, siding and installation of a new wood shingle roof on the 1700s-era structure. Water damage and rot caused the building to bow and lean, and it was in danger of collapsing. The team of contractor, designers and owners worked from the original renovation drawings to develop a plan that preserved historical components, while integrating modern techniques to assure that the building will last another hundred years.
Design Professional:
CROSSKEY ARCHITECTS
Elevators
• New elevator lobby and modernization of the elevator at 51 Elm Street (Design / Build)
• Installation of two new elevators at the State of Connecticut Department of Corrections Central Office building
Design Professional:
FUSS & O'NEILL
• Replacement of the Trumbull Police Department Elevator
Design Professional:
ANTINOZZI ASSOCIATES, PC
• Modernization of the John B Pierce Laboratory exterior freight elevator (Design / Build)
• Finishing touches on the DeMaio Gardens Housing Elevator Modernization Project.
Design Professional:
QUISENBERY ARCARI ARCHITECT
Looking Ahead: On the Schedule for 2017
• Completion of the Chapman Hall at Middlesex Community College
Design Professional:
HIBBARD & ROSA ARCHITECTS
• Completion of Phase I at CW Resources in New Britain consisting of installation of a brand-new elevator and modernization of their existing freight elevator.
Design Professional:
SALAMONE AND ASSOCIATES
• Commence work on the modernization of an elevator at the Parent's Foundation for Transitional Living in New Haven, CT (Design/Build)
• Renovation and elevator addition to the Ora Mason Branch Library in West Haven, CT.
Design Professional:
SAPIENZA ARCHITECTS